Tray Forming Solutions You Can Depend On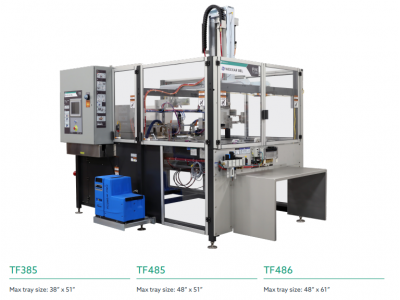 Technical Packaging Systems has decades of experience providing clients with effective tray forming solutions for a wide range of applications. The Wexxar Bel IPAK tray formers are well-respected in the industry for reliable performance and high standard of quality. The latest generation of their IPAK tray formers have the capabilities to run about 90% of all required tray types by simply changing simple core flap folding components. In today's post, we will discuss some of the features of these packaging systems and the benefits of using them for your packaging purposes.
Tray Forming Machines with Effective Features
The Wexxar Bel IPAK tray forming machines feature several standard features that make them so reliable.
Servo Blank Advance – allows for precise glue application for consistent tray forming with energy efficiency and less wear on parts.
Minimal Maintenance Required – get effective blank picking and reduced maintenance time and costs through the controlled vacuum system.
Quick Tool-less Size Changeover – most size changeovers can be completed in about 20 minutes through use of on-machine pictorial guides.
WISE System HMI Controls – get full control of the tray former, including on-board tuning and troubleshooting.
Precise and Reliable Tray Forming – mechanical and dynamic flap folding ensures proper tray forming for superior stacking strength.
Improved Machine Accessibility – relocated FRC makes for much easier machine accessibility during changeover, troubleshooting, and maintenance.
Less Energy Consumption – with a centrally-located FRC, the pneumatic system is more streamlined, reducing energy costs and increasing reliability.
Quicker Size Changeover – with improved accessibility changepoints and added scales, the changeover process becomes more intuitive and easier to complete.
Benefits of Using the Same Platform for Our Machinery
Easier for Operators to Learn – by using the same platform for multiple machines, operators will easily learn to operate, changeover, and troubleshoot them.
Fewer Spare Parts to Stock – by using the same core platform, there will be less need to stock spare parts, reducing replacement costs.
Easier to Maintain – with these machines all being mechanically similar, maintenance staff will become familiar with their layout much more quickly.
Technical Packaging Systems can provide you with the tray forming capabilities you need to increase production and efficiency. For more information about how we can assist your business, please contact us today.