PE Films & Bags
It's a tall order, to lower your labor costs, inventory, material and operating expenses. Our team of packaging experts can assist in doing just that, all by recommending films, features, improved function, and raising the efficiency and quality of your packaging application.
The right film, gauge and features, guarantees top packaging performance. Using high grade resin provides construction consistency and high quality bags, order after order. Special features available include hang holes for retail display, vent holes or skip seals for air evacuation, and vertical or horizontal perforations for E-Z opening.
E-Z Bags® are available on 10", 12" and 14" rolls or fan folded in a box. Fan folded in a box allows for more bags in a box, less downtime due to roll changeover, and improved inventory control.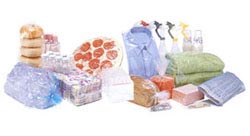 Bags
General Purpose LDP
EXtreme Poly (XP)
Ultra
HD Mailer
SPHD (High Density Polyethylene)
Polypropylene
Gamma Patient
Metalized Barrier Film
Electro Static Discharge (ESD)
Modified Atmospheric Packaging (MAP )
Non-Scratch FilmE-Z StatTM (Anti-Static)
Vapor Corrosive Inhibitor (VCI)
Stretch Sleeves (Polyethylene Sleeve Labels)
HD Series and HL Series
High-density and high-density blended films
High strength
Low abrasion
Excellent alternatives to conventional LD and LLD at lower gauges.
Superb machine films
LL Series
Linear low-density films
High tear strength
High stretch
Excellent sealability
Co-Ex Series
Multi-layer films
Three layer films
Differential slip
Contact us for all of you PE film & bag needs
Click here for more information on our offered consumables