Stretch Films
Stretch film is a packaging solution that keeps large products securely bound together and provides more efficient handling of unit loads. Additionally, stretch film provides moisture and dust protection. Films are made from a combination of polyethylene and other polymers to create a material that is strong, clingy, and damage resistant. They can either be blown (air-cooled after melting) or cast (roller cooled after melting). There are several types of stretch film and wrapping methods.
Hand films are manually wrapped stretch films and have several varieties.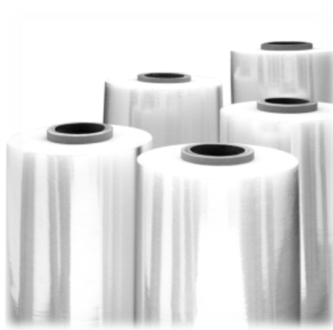 Classic Blown is the best selling, general purpose, hand applied stretch film.
WorldWrap Cast is a strong, premium grade, cast co-extruded film designed to limit neck-down for better coverage with each wrap.
Extended Core is the cast co-extruded, premium hand film wound on 1-1/4" cores with 5" extended application handles.
Supreme and ecoSupreme are the newest, premium grade hand films made with special orientation that produces stronger film at thinner gauges.
Stretched is the latest innovation engineered to outperform all competitive prestretched hand films regardless of thickness.
Steel is designed to handle your toughest applications.
Machine films can be used with automatic or semiautomatic machines that wrap loads by using a turntable or moving arm system.
Select Cast is the best selling general purpose, cast co-extruded stretch film.
Magnum Cast is the ideal film if you are looking to down-gauge an application or desire very high pre-stretch.
Summit Cast is the newest, ultra-premium, one side cling, up to 300% pre-stretch, cast coextruded film
Sigma Choice wraps your pallets with engineered, ultra-premium, cast machine film, and is cost effective.
Vortex is a very tough film. Designed to handle the most demanding applications like hard to package "C" type loads, high speed ring wrappers for carpet fand fibers, extraordinary heavy pallets, or extremely valuable products that require exceptional unitization.
Specialty Films
Colors Black security wrap (20" x 80 gauge extended core; 12" x 80 gauge, blown machine film)
UVI UV stabilized film
Wide Web stretch film (Available in blown and cast products)
Bundling Film 10-18" widths, cast and blown products
Silage High Performance blown silage film that delivers high feed value
Custom Configurations Custom Sizes, Bulk Packaging, Custom Labels
Contact us for all of your Stretch Wrap needs
Click here for more information on our offered consumables