Filling and Capping Systems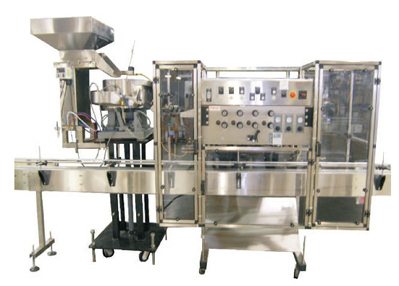 Everything from manual, to semi-automatic, to fully automated filling and capping systems. All kinds of containers—glass, plastic, metal, or foil. All kinds of caps. We cover it.
Bottle Unscramblers
From a disorganized mess to precise rank and file, ready for filling. Line 'em up.
Cap Pre-Feeders
Elevators requiring only minimal floor space keep your line supplied with caps. Multiple hopper and elevator sizes are available.
Cap Sorters
Multiple sorting options can accommodate any type or size cap:
Vibration
Centrifugal
Pocket
Elevator
Some systems require little to no changeover for different caps.
Capping Systems
Threaded, press-on, induction, or some combination, we offer both spindle and chuck style options for a wide range of bottle (2–14″) and cap (10–115 mm) sizes.
Liquid Filling Systems
From small (1/4 oz.) to large (5 gal) fills. From low to high volume. From 2 to 20 or even more fill heads. Gravity, gravity plus pressure, pumped, or overflow filling. Fill by time or volume. No matter what viscosity. Whether your application requires high-temperature filling, a sanitary environment, or involves corrosive products, we offer equipment that can do the job.