See Filling and Capping Machines and Label Applicators at the CannaCon Midwest Show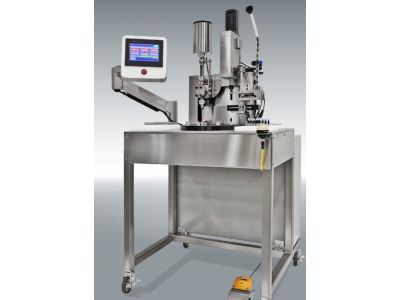 If you are planning on making a trip to the Rosemont in Chicago for the CannaCon Midwest Show, you can meet with Technical Packaging Systems to see our FC 100 cartridge filling and capping machine, as well as our Model 390 label applicators. When visiting our booth, our representatives will be discussing the benefits of each while also providing ways that individuals or businesses who work with us can find unique and quality solutions through the use of the machinery we offer. If you can't make it to the Show, we will miss seeing you, however, we will provide quality information here so that you can still learn everything you need to know about the machinery from Technical Packaging Systems.
An Automatic Label Applicator
The label applicator that Technical Packaging Systems will be displaying at the CannaCon Midwest Show is our Model 390, an automatic horizontal wraparound label applicator. Providing pinpoint accurate label placement that makes it perfect for smaller, and more difficult to handle products, the Model 390 is perfect for small products that need accurate measurements and applications. Because it can wrap labels around products, it is the ideal machine for pharmaceuticals, cartridges of various kinds, and more. Because it is easy to use and manage, it is also a great option for application of labels for Pre-roll Cones.
Precision filling and capping machines
As discussed in our last month's post, the FC100 is a great option for any business that needs filling and capping accuracy that they can depend on. Also being featured at our CannaCon Midwest Show booth, the FC100 is a great piece of machinery that provides accuracy to filling and capping, while also having a small footprint and requiring no compressed air. This can help operations save space while still getting the filling and capping effectiveness they need.
Technical Packaging Systems prides itself on providing quality solutions that our customers can count on. To learn more about our products and what they can do for you, come visit our booth on August 6 and 7, 2021 at the CannaCon Midwest Show at the Rosemont in Chicago, Booth #918. We will be giving examples of why our filling and capping machines, as well as our label applicators, are products that can benefit the cannabis business. We hope to see you there!