Save Time and Reduce Injury with a Semi-Automatic Case Packing System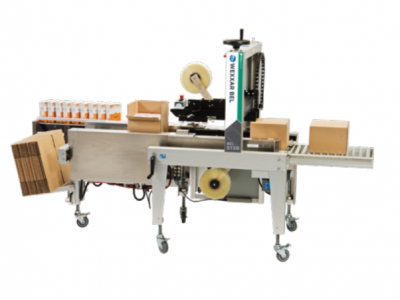 When you want to improve your packing operations, a semi-automatic case packing system can reduce the amount of time taken for packing and decrease the number of injuries sustained from extended periods of strenuous posture. The Wexxar BEL 5150U is a semi-automatic form, pack, and seal system offered by Technical Packaging Systems, Inc. that sets up workers for success by helping their process move along while also letting them work in a more comfortable position.
TPS provides some of the best packaging solutions on the market, and the BEL 5150U is one that we recommend for anyone looking to bring reliability into their packing operation.
Improve operator efficiency and accuracy
With Wexxar Bel's Uni-Drive system, both side belts synchronize to eliminate case skew, which ensures a square seal even after extended periods of use. This improves accuracy of the packing process while also allowing workers to pack each container without having to worry about the initial construction of the container itself. Through this, efficiency of floor operations is improved, and human error is removed from the initial case-making process.
And, with user-friendly picture guides on ever BEL 5150U, the unit is labeled to help workers know where they can control their operation to change it as necessary for different size packing.
Improved ergonomics on the work floor
Not only does the BEL 5150U improve the efficiency of operations, but it can also make the process of packing more comfortable for workers, functioning as an ergonomic option of hardware for the packing process. By holding the case in place that needs to be packed, the BEL 5150U allows for fast and easy case packing and manual top flap folding for sealing. This removes the need for unnecessary bending and motion, making for a more ergonomic work environment.
TPS offers only the best equipment on the market, and the semi-automatic case packing system of the BEL 5150U will help you make a work environment that allows workers to do their packing duties for longer without worrying about straining themselves.
Serving almost every industry by providing professional packaging machinery, materials, design, and more, Technical Packaging Systems, Inc. is the best source for saving time and reducing injury through ergonomic, efficient equipment. Improve your packing stations today by contacting our team about the Wexxar BEL 5150U and learn more or order one today!