Learn About Our Cannabis Cartridge Filler and Capper at the Chicago CannaCon Expo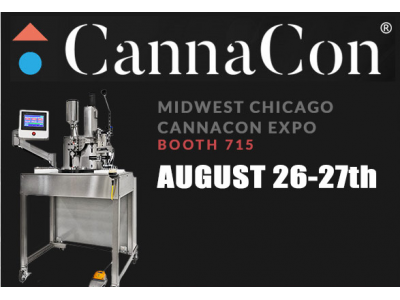 Technical Packaging Systems, Inc. is once again featuring the FC100 cannabis cartridge filler and capper, this time at the Chicago CannaCon Expo. The event occurs in just under two weeks, from August 26th to August 27th, and it is a great opportunity for any entrepreneurs in the cannabis industry to learn about a great piece of equipment and how it could help your operation really thrive.
Our team has decades of experience in helping with packing and sealing operations of various kinds, so, as it became legal, TPS invested in machinery and training to apply our experience toward helping the cannabis industry. Now, with our expertise coupled with effective and efficient machinery, the cannabis industry has a great source of assistance through Technical Packaging Systems, Inc.
Known for dependability
Technical Packaging Systems is exhibiting the FC100 at CannaCon because it meets the expectations that we have for equipment, which is accurate, repeatable, and fast operation. Capable of a fill accuracy of +/- 0.2ml at up to 15 cartridges per minute, the FC100 provides an excellent addition to any operation still in need of a professional filler and capper.
The FC100 is a great piece of equipment to consider, so we encourage you to come visit our booth at CannaCon to learn more about it and to discuss with our team how it can fit into your operations for better output of product!
Where to find us
The team representing Technical Packaging Systems will be at booth #715 for the Chicago CannaCon Expo. We will be exhibiting the FC100 to any who are interested in innovative and efficient hardware to add into their packaging operations in the cannabis industry. Our team has worked in the cannabis industry for years, so you know that our team will only provide some of the best equipment in the business.
We appreciate the opportunity to meet with some of our potential customers and showing them why the equipment that TPS has to offer can be a great benefit to their operations.
Providing only the most current packaging equipment on the market, Technical Packaging Systems, Inc. looks forward to show those in the cannabis industry the potential benefits that the FC100 can bring to their packaging. Reach out to our team to learn more, or come see us at Chicago CannaCon Expo and talk to us first-hand!