Pharmacies Maximize Speed and Precision a Wraparound Label Applicator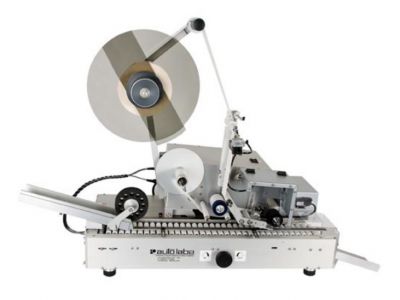 When a business like a pharmacy is working with small labels day in and day out, a wraparound label applicator can be the perfect tool to maximize speed and precision for products. Although this is a process that can be done by hand, the proper equipment can maximize efficiency of the individual doing the labeling by providing them with a way to perform accurate, automatic labeling.
Technical Packaging Systems, Inc. provides the Auto Labe Model 390 for this, an automatic horizontal wraparound label applicator that pharmacies can count on. Versatile and dependable, the Model 390 can help any pharmacy increase productivity through a better labelling system.
Labels for all types of products
Whether you are looking to apply labels for prescription bottles or need a way to label syringes, the Model 390 automatic labeler is adaptable for labeling odd shapes with its labeling process. This is perfect for pharmacies, where seemingly no two prescription containers are the same shape or size. Using the Model 390 that our team provides, workers can get labels taken care of with taking extra time or effort for the ones that are harder to regularly fit on.
We use Auto Labe to provide our automatic wraparound label applicators because they all place labels within 1/32-inch accuracy. When working with labels for uniquely shaped products, it is important to make sure they are applied right every time, and Auto Labe's applicators provide this for every product.
Compact and easy to manage
If you haven't used an automatic label applicator for your operations before, it might seem intimidating to include or find space for in your pharmacy. However, the Auto Labe 390 is a compact, easy to operate system that can assist you in getting a better way of applying labels on small, difficult to handle products, without taking up a large amount of space.
With an optional product metering wheel and safety cover, the 390 also provides added functionality and safety where it is needed. These features make for easy management of your operation.
Always providing the best solutions to the packaging and labeling businesses, Technical Packaging Systems can help pharmacies find their best labeling tool with the Auto Labe 390. Our dedicated team will help you move toward a better way of operating through efficient labeling. Contact our team today to learn more about what benefits the 390 can provide and to get started on ordering yours today!