Keep Products Consistent with an Automatic Label Applicator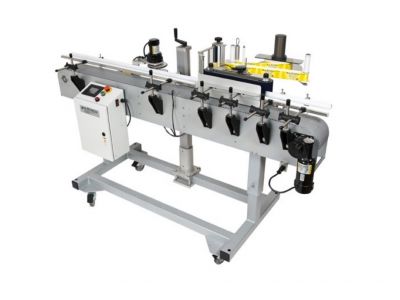 When developing your brand, consistency is important, and an automatic label applicator from Technical Packaging Systems, Inc. can provide unmatched consistency for your products' packaging. We provide the Model 600 Series automatic pressure sensitive labeling systems from Auto Labe for any business that is interested in consistent and accurate labeling of their products.
Technical Packaging Systems carries all the best products for packaging solutions. Label applicators can increase productivity in any operation that requires product labels, and the Model 600 Series that TPS carries will give your operation the best applicator in the business.
Options available for businesses
With the Model 600 Series, there are multiple options available that provide different benefits depending on what your business needs. From the Model 620 that provides full or partial wraparound labeling of round products to the Model 680 that provides front and back labeling of square or rectangular products, there is a solution for your business no matter the size or shape of your product.
Each different model type is easy to set up and simple to maintain, making it a quick addition to your production that will only increase productivity. TPS has worked with businesses in the packaging industry for decades, so the equipment that you can get through us always offers the best function for your needs.
Customize for the best results
The Auto Labe automatic pressure sensitive labeling systems that TPS can provide also have a variety of options available for you to pick from when you order. Some of these options include wide label web width kits, descramblers, product spacers, and more. Each of these can help your business bring in an automatic label applicator that is a perfect fit for your operations.
If you are unsure as to whether additional components are necessary or not for your business, our team might be able to help you decide. TPS has decades of experience in the packaging solutions industry, and our knowledge is at the disposal of our customers when they need to decide about one of our products.
With vast expertise in packaging machinery and the packaging industry, Technical Packaging Systems can help your business apply labels to products more easily with an automatic label applicator. With experience in assisting almost every industry with their packaging and material handling, you know our team will help you improve workflow through effective packaging solutions.
Reach out to our team today to learn more about our automatic labelers and how they can positively affect your business through increased production.