Guarantee Accurate, Dependable Measurements with the Anritsu Checkweigher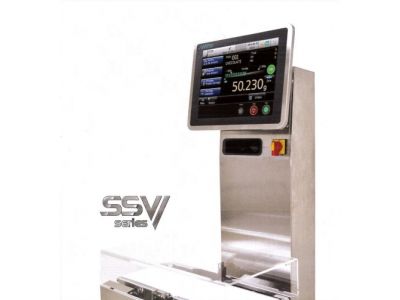 If your production line is in need of a new checkweigher, Technical Packaging Systems, Inc. would like to introduce you to the accurate and dependable Anritsu SSV Series checkweigher. Knowing the exact weight of packages, cartons, and individual products is important to preventing any rejects that may be under or over the weight they are supposed to be. The Anritsu SSV Series delivers accurate and reliable measurements time and again for businesses and will ensure that whatever goes on to the next stage of the packaging process is always perfect.
Simple installation and management
Starting at just 545mm long, the Anritsu SSV Series checkweigher provides a compact way for you to include weight measurement into your operation. This can allow you for more space for other products such as our metal detectors or save you one space for more maneuverability in a workspace that may help you meet guidelines for work. Because it has a common interface, it is also simple to manage and use in your space, making it an easy addition that can quickly be implemented, without slowing down production and packaging. The guided operation features that the Anritsu SSV Series provides will make training and use easier for your workers while also providing the most accurate results.
A reliable checkweigher like no other
With over five decades of experience designing and refining checkweighers, Anritsu promises that the SSV series will provide you with only the latest and greatest in checkweigh technology. With nearly 100,000 installations worldwide, you know that you are in good hands when you get the SSV series installed. And, with a 600 products per minute capability, the Anritsu SSV Series will give you effective measurements quickly and accurately for years to come. When you want the best price for a checkweigh machine that will provide you with the best performance and reliability, look no further than the Anritsu SSV Series.
With over 30 years of experience providing the industries of food, pharmacy, automotive, transportation, and more, Technical Packaging Solutions, Inc. is the premier provider of checkweighers that you can count on. When your current checkweigh machine hits the end of its lifespan, does not give you reliable results that you need, or you need another to add to growing operations, you can depend on the Anritsu SSV Series that we provide. Contact us today to learn more about Anritsu checkweighs and how they can help your operation!