Find Fast and Reliable Sealing with a Shrink Packaging System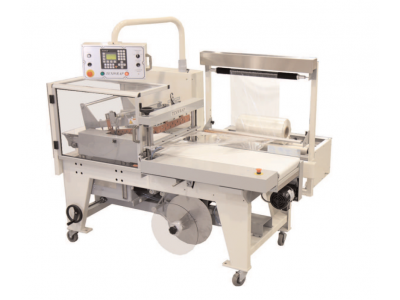 Packaging operations always benefit from more efficient gear, and Texwrap® has one of the best on the market with their ST-2219 and ST-3322 case sealers. Offering sealing options for a wide range of products, both models of L-sealer are great in any floor production for packaging where dependable automation is required.
Supplied through Technical Packaging Systems, Inc., these Texwrap sealers are available to any operation that wants to improve its case sealing capabilities. Whether you work in a large operation or a small production, both can benefit from the efficiency and productivity an L-sealer brings.
A variety of features
The Texwrap shrink packaging systems that TPS carries come with a huge variety of features that make them stand out as the superior choice for L-sealers. Some of these include fully automatic product indexing and package length adjustment, a low-mount film cradle, swivel operator panel, touchscreen library of previous package setups, and an automatic dwell time compensator.
Some of these features of Texwrap's units are not available with competitive models at the same price range, meaning you get more for your money when you choose the ST-2219 or ST-3322 from Technical Packaging Systems. These features allow for a more reliable production and can expedite processes through convenience of operation.
Fast and long-lasting
With 100 FPM conveyor speeds and Texwrap's exclusive Motion Trim™ technology, the ST-2219 and ST-3322 are the fastest L-sealers on the market. And not only are they fast, but Texwrap's shrink packaging systems are built with the capability of constant operation. Their automated production, once set, can run through the entire workday, meaning better results at better speeds.
Technical Packaging Systems always tries to offer the best equipment in the business. Between the unique features offered by the ST-2219 and the ST-3322 and their capability to provide reliable, fast operation means they are some of the best shrink packaging systems on the market. Take it from our team of packaging experts when we say that the units offered by Texwrap will improve your operation for the better.
Whether you need shrink film or an L-sealer to put the film on products, Technical Packaging System, Inc. has everything for your production line. Offering some of the best options available for the packaging industry, fast and reliable sealing is only a phone call away with the products from Texwrap offered through TPS. Let us help you find better packaging solutions by giving us a call today!