Optimize Operations with the Lantech® Auto Roll Change System for Automatic Pallet Stretch Wrappers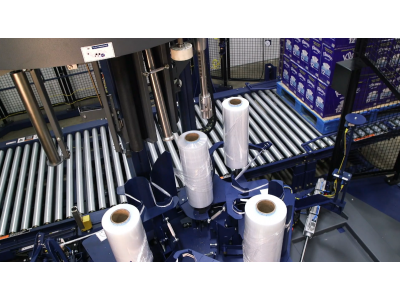 When it comes to packaging options, Lantech offers some of the best for automatic pallet stretch wrappers. Automatic stretch wrappers do a great job of sealing product for shipment in a fast and labor efficient way, but the rolls of film that they use eventually run out, leading them to needing to be replaced.
Technical Packaging Systems, Inc. carries With an auto roll change system included into the operation, every part of the stretch wrapping process is made hands-off and streamlined. Through a short setup process and training, your system can be programmed and set up to increase your productivity for the long-term.
Meet production's needs
When choosing an automatic roll change system, you set yourself up for success by gaining the ability to meet production needs where and when they're needed. Rather than take time out of the busy workday to swap out stretch film, an automatic system ensures it is always done immediately, allowing now downtime between a roll being spent and a new one being put in place.
The Lantech automatic pallet stretch wrappers can perform to wrap loads that are large, tall, heavy, or even fragile, providing an excellent way to wrap almost any product. So, you can maximize the efficiency of these systems by providing them with automated loading so that they can provide your operation with nonstop, efficient service.
A trusted brand
Lantech is a brand with over 50 years of experience in designing and manufacturing machinery. With versatile, fast operating automatic machines, they are a brand that provides some of the best service with automatic pallet stretch wrappers.
All the equipment offered by Technical Packaging Systems is available through us because it is some of the best in the business for improving production. We have seen and worked with machinery of all kinds in the packing and shipping industry, meaning we have the experience to know which products will help our customers to make the most of their production line, and this includes the Lantech auto roll change system.
From reallocation of important labor hours to rapid, precise results, the Lantech auto roll change system is a great choice for any automatic pallet stretch wrapper operation. The professionals at TPS always strive to provide the best packaging solutions around, and Lantech is the proven brand that you can trust. Contact us today to discuss how implementing their machinery might help your operation!