Leverage the Flexibility of Trinamics' TR1000 Top Load Case Packer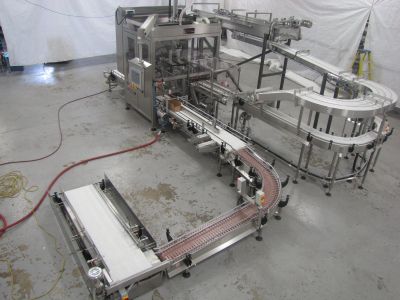 Offering an unparalleled amount of flexibility, Trinamics' TR1000 load case packer allows you to pack a number of different product configurations using the same case packer. As it is designed as a top load case packer, it offers an inherent advantage: easy redeployment in the future, should the make up or spectrum of your products change. Because of this, the TR1000 is an ideal packing solution for companies that regularly expand their product lines or redefine their line's packing needs.
The TR1000's flexibility is enhanced by its swift pick rates. With the ability to pack up to twenty-five cases per minute – depending on product SKUs – the TR1000 allows you to store settings in its HMI. Using these settings, you can quickly transition from product to product, recalling past settings and immediately reconfiguring the line to operate at peak efficiency. In addition to this, multiple cases can be staged in the pack area, allowing for multi-case loading and higher rate applications.
Trinamics' unwavering commitment to manufacturing high-quality, cost-effective case packing systems has earned the company a place at the forefront of the packaging machinery industry. Known for their in-house engineering and state-of-the-art technology, Trinamics adheres to a strict sales code that ensures that every customer is satisfied with their purchase. From quick service and innovative packaging solutions to operator training and ongoing maintenance assistance, Trinamics has rightfully gained a reputation as the leading provider of creative case packing solutions.
At Technical Packaging Systems, we believe in providing value to our customers. Recognizing Trinamics' dedication to that same belief, we are happy to offer the company's full line of case packing machinery. Whether you're looking for a low-volume side loading case packer or an adaptable top loading case packer, we are certain that we can connect you with the equipment that you need. To learn more about our offerings – and to take another step toward streamlining your production line – contact us today to discuss the machinery that we have available.