Improve Efficiency and Productivity with Trinamics' TR616TL Case Packer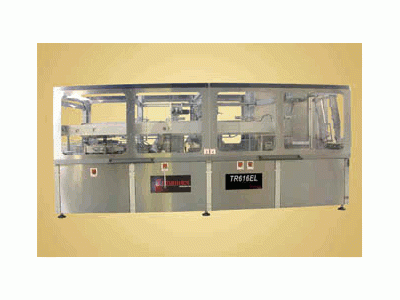 The pinnacle of case packing technology, Trinamics' TR616TL case packer is engineered to form, load and seal RSC-style cases at rates of up to twenty cases per minute. Capable of both top and bottom sealing, the TR616TL offers a degree of versatility that is virtually unmatched by other case packing equipment and, more importantly, is a surefire way to boost your operations' efficiency.
As a result of the TR616TL's design, you can count on being able to achieve higher pick rates when packing multi-layer cases. Because of this, your yields will be greater, your productivity will increase and your employees will enjoy a simpler, safer way to pack your business' products. All of these benefits, by and large, are due to Trinamics' dedication – at every level – to creating a technologically superior case packing technology.
From the TR616TL's guaranteed durability to the high quality materials utilized in its construction, every aspect of the case packer has been carefully considered. Used by the most discriminating companies, Trinamics' case packing equipment has earned a reputation for being rock-solid reliable, cost-efficient and effective. As an added bonus, the TR616TL offers a compact footprint, which means that users can preserve precious floor space and dedicate that space to more profitable endeavors.
Capable of packing a wide variety of products, including flexible packages and ridged containers, the TR616TL offers the versatility that modern companies have come to demand from their case packing equipment. And, backed by the Trinamics reputation, you can be confident that you're purchasing a dependable, long-term solution to your packing needs.
At Technical Packaging Systems, we offer a massive selection of case packers that are able to efficiently handle your business' cartons, bags and trays. Whether you're looking for traditional horizontal and vertical options or you need a more flexible solution, we're certain that the products available from Trinamics will meet your requirements. So, if you've been looking for a powerful, efficient top loading case packer, contact us today to discuss the Trinamics TR616TL.