Get the Fine Details with a Label Applicator that Does it All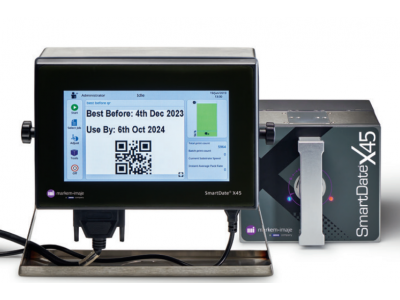 When your packaging production needs a label applicator for medium-duty applications that require thermal transfer overprinting, the SmartDate® X45 is the printer you can count on. Offering a way to put high-quality coding onto flexible film packaging, the SmartDate X45 ensures that your operation can get the thermal transfer overprinting that it needs to meet production requirements and work efficiently throughout your operation without error. Technical Packaging Systems, Inc. has provided the best packaging solutions to businesses for decades, so you can count on a label applicator from us to best suit your production's needs.
Printing you can count on
The SmartDate X45 is not just carried by Technical Packaging Systems because of its efficiency, but also because of the superior printing that it offers. When you want better quality text, graphics, and barcodes, you can count on the SmartDate X45 to improve your operation in all aspects. And, with the ability to support marketing with coded, unique printing on packages, a thorough system that checks to ensure every print is perfect, and more, you will get the printing that your production always needed. Do not let your label applicator slow your operation through faulty prints or slow production; count on the SmartDate X45 to do it all for you.
Save on printing for your production
By investing in the SmartDate X45 label applicator, you can benefit your operation by providing it with a piece of equipment that is unmatched when it comes to cost-effective reliability. Designed to contain no wear parts, the SmartDate X45 requires no preventative maintenance, and also provides up to 15% more codes per roll that you put through it. This allows you to run the thermal transfer overprinter again and again each day without ever having to worry about it breaking down on you, while also getting more printing done with the same number of materials you were using before. Always looking for the best equipment to optimize operations, let Technical Packaging Systems implement the SmartDate X45 into yours so you can see the difference.
Providing packaging line products that are designed to best help the industry that they are put into, Technical Packaging Systems, Inc. has everything that those looking for a quality label applicator need with the SmartDate X45. Through our knowledge and support, your packaging systems are made the best that they can be. Contact us to learn more about how the SmartDate X45 can work for you!