Ensure the Safety of Your Employees and Increase Productivity with a Vacuum Handling System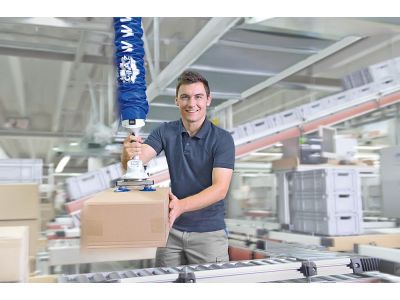 In almost every operation, productivity is influenced by the flow of materials. If you're unable to quickly process, load and ship materials from one work area to the next, an artificial bottleneck is created that severely limits your operation's production. By integrating equipment that ensures an efficient material flow, you can ease this bottleneck, increase production and, even better, promote employee safety. In this post, we're going to examine the operational and ergonomic benefits of the Schmalz vacuum lifting systems available from Technical Packaging Systems.
Better employee safety
Schmalz vacuum handling systems are a safe, efficient way to lift and move items weighing up to 660 pounds. Because of their ergonomic benefits, they put less strain on your employees, allowing them to easily perform their work with a reduced risk of injury.
Lower labor costs
As vacuum tube lifters require only one person to operate, they decrease the number of employees that you need to dedicate to material handling tasks. Couple this with the systems' ergonomic benefits and you will find that you are spending less money to achieve the same jobs and, even better, you are reducing downtime caused by employee injury.
More productivity
As the primary goal of vacuum lifting systems is to reduce loading and handling times, it's no surprise that they are beneficial to your productivity. Allowing you to precisely load, ship and pick areas in a fraction of the time, you are able to eliminate production bottlenecks and take full advantage of your line's other equipment.
At Technical Packaging Systems, our vacuum handling systems aim to streamline your material flow and ensure the overall safety of your employees. With a range of operational and ergonomic benefits, Schmalz's systems are widely considered to be the industry's best. So, if you've been experiencing slowdown in your line due to inefficient loading and handling times, contact us today to discuss how we can help.