Learn About the IPAK TF100 Fully Automatic Tray Former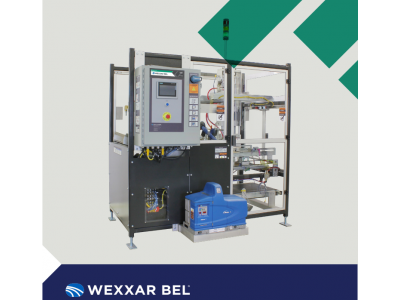 Technical Packaging Systems is proud to introduce the IPAK TF100 Fully Automatic Tray Former from Wexxar Bel. This high performance machine is specially designed to form standard 4-corner trays through optimized use of servo drives and pneumatic blank stops. This process results in precision trays formed to provide reinforced stacking for sufficient strength with the aesthetic look you need.
While the IPAK TF100 is an entry level machine, it includes many features that make for ease of use for your employees, including a 7 inch touch screen, interlocked safety guarding, and more for performance you can rely on for years and years. This machine also allows for quick and accurate change with features like color-coded quick size change handles, scribed parts, and digital readouts. Please read further for more information about this machine.
Convenient Features for Reliable Performance
Mechanical Compression – by ensuring that all flaps are folded and glued properly, your tray will have the proper strength for stacking.
Quick 7 Minute Size Change – you can complete changeovers in under seven minutes through use of minimal changeover points with color-coded handles and scribed parts.
Minimal Training Required – this machine features Wexxar's WISE System touchscreen interface that uses intuitive controls, while also offering tips and guides for easy-to-understand operation in all key areas.
Safe Operation – with this machine's fully interlocked doors, your workers will benefit from safe, easy machine access for service and troubleshooting purposes.
Premium Adhesion Device – this machine features the standard Nordson ProBlue hot melt adhesive system that helps enhance the strength of your trays.
Available Options for the IPAK TF100
Machine Management with Tri-Light Beacon – this machine monitor will provide audible and visual alarms for low glue/tape or low magazine, keeping operators informed, so they can maintain productivity and avoid any costly downtime for the machine.
Outfeed Conveyers – this feature provides a place where the properly completed trays can be collected and stacked before being moved onto further processes.
Enviroguard Options – if you require added corrosion or moisture resistance, then there are Enviroguard options available.
IPAK TF100 Specifications
Speed – this machine can create up to 40 trays per minute during production runs.
Construction – the machine is constructed using top quality heavy duty materials with a strong welded frame and EZ-Clean powder coating for a strong surface that will look great for years.
Controls – with the HMI color touchscreen interface, operators will be able to quickly learn how to use the machine, no matter what project is being completed.
For more information about this machine, please contact the professionals and Technical Packaging Systems.