Printing on Non-Porous Surfaces with Ink from AT Information Products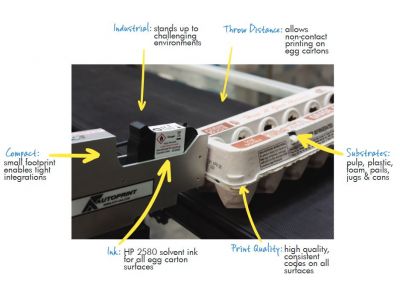 For more than forty years, AT Information Products (ATIP) has provided dependable, high-quality inkjet printing solutions that allow for easy product identification and hassle-free package coding. Now, ATIP has rolled out a line of black solvent ink specifically designed to print on non-porous surfaces. With the introduction of these inks, ATIP has expanded the range of possibilities afforded by industrial coding products and has lived up to their reputation as the industry's most innovative provider of inkjet printing solutions.
A regular objection to thermal inkjet printing is that it isn't durable enough to survive in rugged packaging environments. Bearing this in mind, ATIP worked closely with Hewlett-Packard to – once and for all – overcome that objection and prove that thermal inkjet printing is high quality, clean and reliable.
The result of this is a line of durable black solvent inks that offer the characteristics needed to print coding information onto non-porous surfaces, such as hard plastics, wood, metal, plastic films and more. In addition to this, overall enhancements to the thermal inkjet printing process serve to bolster these qualities. With the ability to print on sharply curved, impermeable surfaces, ATIP's new technology isn't just a solution for large scale packaging operations, it's a wholesale solution for those times when you need to print coding information onto surfaces that were previously thought to be impossible.
At Technical Packaging Systems, we offer an extensive line of inkjet labeling, printing and application systems. Included among these offerings are some of ATIP's most dependable solutions. Whether you're looking to print coding information on internal shipping containers or you need to add identification codes onto individual packages, ATIP's line of thermal inkjet printing products is certain to offer a definitive, reliable answer. To learn more about the product identification and coding solutions available from Technical Packaging Systems, please reach out to us via our contact page.